Traveling with your stuff is never easy in India. Either you can protect yourself or the things you are carrying. So, what can be the best possible solution in this case? Backpacks!
Backpacks are convenient, plus they add a stylish and uber-cool factor to your overall appearance. Besides, the backpacks come with ample storage to store and protect your essential items.
Whether you are searching for a backpack for traveling or a work bag, you should choose the one that provides durability and falls under your budget. So, here you have the reviews of the best backpacks under ₹1000 to become your companion in need.
In the end, don't forget to check the buying guide and FAQs to clarify your doubts.
Our Picks For Best Backpacks Under 1000 In India
From carrying laptops to folders and documents, investing in a good backpack requires detailed understanding and research. So, take a brief look at the specifications to find the backpack that is perfect for your needs.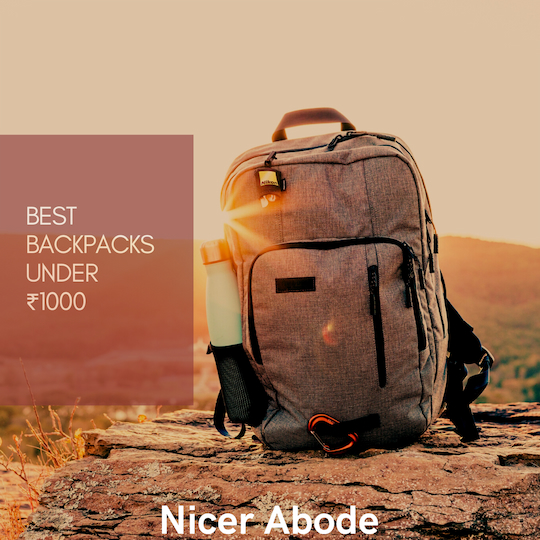 You need backpacks for different purposes. Most frequently, they are used by office workers and college students while traveling to their designated places.
Searching for a bag that suits your needs and completes your style vision is no less than a challenge to find. It can even get confusing to find a bag that meets all your storage requirements. So, we have researched the best bags below 1000 rupees to save your time and ease your burden. Here follows our picks for the seven best backpacks under a thousand bucks in India!
1. Safari Sea Blue Casual/School/College Backpack
Whether you need a bag for your regular travel or short trips, this Safari Backpack has got you all covered.
The backpack comes with a 15-liter capacity to carry all your essential items, including pens, notepads, earphones, keys, an umbrella, and your wallet. Further, the bag is designed perfectly to let you put equal support on your back without letting you bend with the weight.
With two compartments, you can conveniently keep different items as organized as possible.
Because this bag is made with polyester, the bag is compact and lightweight, weighing just 200 grams. It also has a drawstring that lets you draw things from the bag with ease.
Pros
Spacious bag with two compartments
Fully functional and stylish
Eye-soothing and beautiful color
Drawstring straps allow easy opening and closing
Cons
Straps may get torn after frequent use
2. Lenovo Casual Laptop Backpack B210
Lenovo Casual Laptop Backpack B210 is one of the best laptop bags under ₹1,000, perfect for college students, daily commuters, and travelers.
The bag features a streamlined design, water-repellent snow yarn polyester fabric, and a padded interior to protect the stuff you will keep inside.
Apart from that, you will find a laptop compartment to fit any 15.6-inch laptop. Plus, there are multiple pockets to keep business cards and mobile devices. There is a quick access compartment to store your essential items.
In the main compartment, you can also keep your laptop accessories, magazines, and notepad.
The padded compartment and shoulder straps offer a quilted back panel, making it extremely comfortable for you to wear all day long.
Pros
Highly durable design
Padded laptop compartment for sufficient protection
Quick-access zippered front pocket
Suitable for all types of outdoor activities
Cons
3. POLESTAR Noble Blue Casual Backpack/School Bag/ Laptop Backpack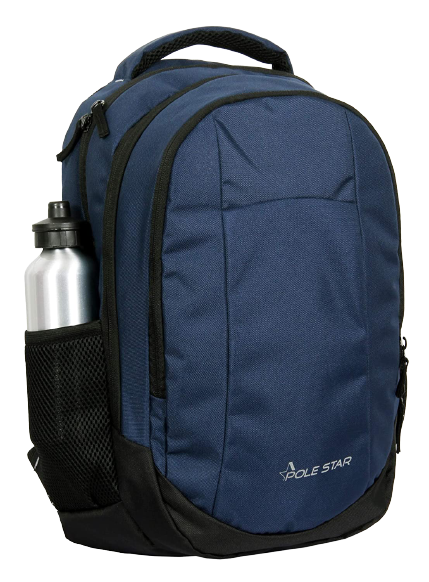 While looking for a backpack under a tight budget, you might have limited choices in colors. However, Polestar Noble Blue Casual Backpack comes in neutral colors, making it suitable for both men and women to carry.
The bag is made from PU polyester and designed ergonomically to suit different age groups. You can use the bag as a work bag, laptop bag, short trip bag, or college bag.
With three compartments, its second compartment offers enough space to keep two pairs of clothes, files, or long books. Additionally, you can keep all your stationery items, and there are mesh pockets on both sides to keep your bottle.
The shoulder and back straps with the padded base will provide exceptional comfort to carry heavy items for a longer period.
Pros
Cons
4. Gear Carryon Backpack Blue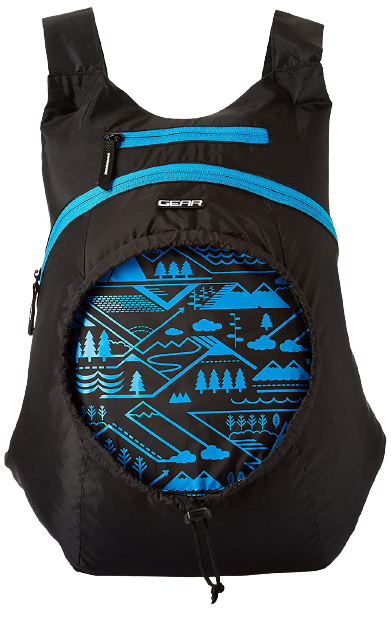 If you need the bags under rs 1000 for a long journey or quick commute, Gear bags can be used as adventure bags or laptop bags. They can make a great travel companion that comes with ample storage space to let you carry all the equipment.
When a laptop is an essential part of your work, you will need a backpack to keep it safely and securely. The multi-functional Gear bags let you carry any 15.4-inch laptop easily.
Besides, the bag is water-resistant, stain-resistant, and wear-resistant.
Pros
Can fit a 15.4-inch laptop
Water, stain, and wear-resistant
Ideal for children between 3-5 years old
Backed by one year of manufacturer's warranty
Cons
Not suitable for heavy-duty
5. Killer Jupiter Small Outdoor Mini Backpack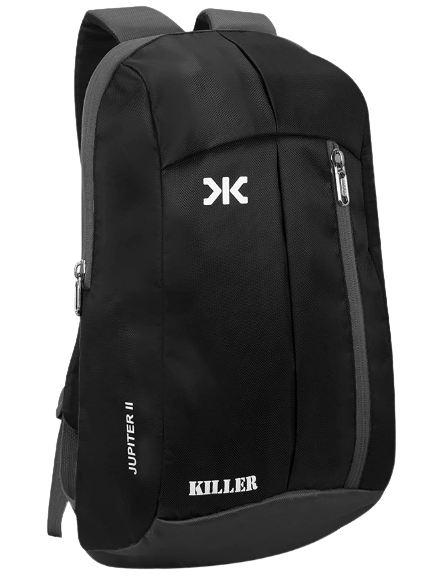 The Killer Jupiter small outdoor backpack offers 12 liters of capacity, sufficient for when you want to go for a short picnic or pack a day's trip. It is made with high-grade PU-coated polyester fabric, ensuring long-lasting performance and high durability.
The shoulder straps are well-padded to make your back feel light while carrying. Also, it helps relieve additional stress on your shoulders.
Pros
Water-resistant PU coated durable fabric
Padded back for convenient and comfortable carry
One main compartment and one additional pocket
One year warranty against any manufacturing defects
Cons
Slightly priced higher than usual
6. Safari Cherry Red Casual/School/College Backpack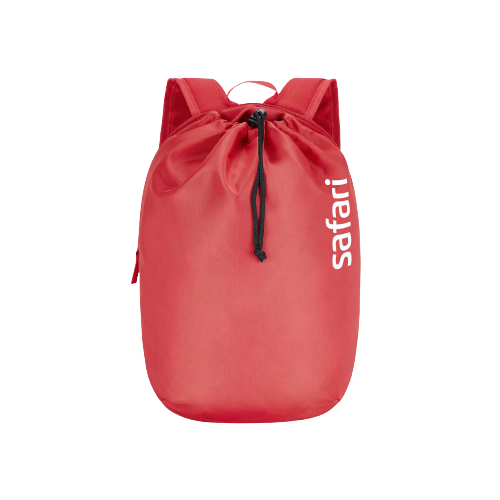 Traveling across the city or to your work is now made convenient with Safari cherry red casual backpack. Its 15-liter capacity allows you to carry everything you need in one place.
Two compartments are spacious enough for you to store your belongings. The best part is the drawstring. It lets you easily drop and dump things without making extra efforts.
Isn't this one of the best backpacks worth grabbing at such a price range?
Pros
Drawstring compartment to quickly access your things
Comes with a sufficient 15-liter capacity
Highly durable polyester material
Compact and lightweight design
Cons
Comes with no laptop compartment
7. American Tourister Blue Casual Backpack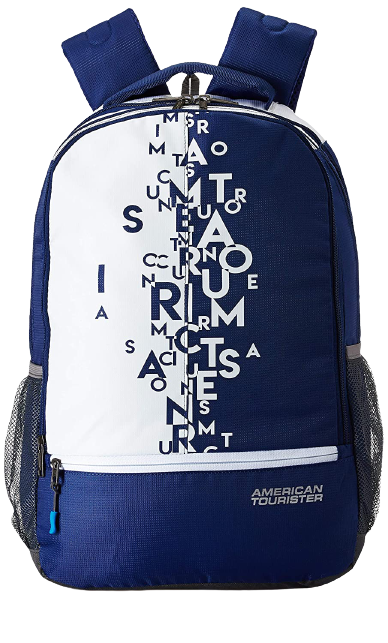 The last addition to the list of best backpacks within thousand rupee is the American Tourister Blue Casual Backpack. The backpack steals the show with its trendy design and style compared to other casual backpacks.
The backpack is reliable, convenient, easy to carry, and comfortable for every age group.
American Tourister has made a presence in more than 100 countries. It is considered the best college bag under ₹1000 for a reason. The three full compartments are spacious enough to keep journals, notebooks, or textbooks.
Furthermore, the backpack has a front pocket and internal organizer to keep your tools easily accessible. It also comes with padded mesh shoulder and back straps and a breathable system for exceptional back support.
Pros
Adjustable straps
Breathable system for back support
Three main compartments
Mesh pockets on the sides to carry umbrella or bottle
Cons
Some users have complained about the bag's durability
Factors To Consider While Purchasing The Best Backpacks Under a Budget Constraint
Backpacks represent your free spirit and the ability to enjoy freedom in different environments. So, if you are looking for the best backpack price below 1,000, you need to consider a few essential factors.
A backpack within your budget is not suitable to buy if it cannot fulfill your daily requirements. Here are some pointers to ensure a reliable purchase that suits your budget as well.
Protection
An ideal laptop bag should be able to protect the contents inside your backpack.
However, if you carry your backpack with your laptop on your back all day long, make sure that it contains enough padding. The padding will protect the fragile elements.
Also, it would be best if you choose one that is water and weather resistant. Such backpacks help to protect the items inside during rain.
Style
A backpack is not just for convenience or utility but to enhance your overall appearance. You may wonder whether it's possible to buy the best college backpack under INR 1,000. Well, it is!
You may prefer some bold colors for traveling and a sleek-looking backpack for professional use. There are plenty of options to buy the best back packs under thousand rupees in the market that suit your taste and style.
Comfort
The comfort and user-friendliness are something usually ignored while purchasing the best college bag under 1000 rs. Why? Most people run either after the style or budget that comfort is left as the last option to consider.
Your backpack should be comfortable enough to carry effortlessly. This way, the backpack will not hurt your arms and shoulders. Moreover, the padded and adjustable straps will help distribute weight evenly to reduce strain on the shoulder muscle.
Needs and Requirements
Lastly, you should pay attention to your needs this time. Choose your backpack for the purpose you would use it.
For example, if you want to carry your laptop with you, you should look for backpacks with laptop compartments. Also, for college, you will need a backpack that can carry the weight of your school books. On this basis, you can manage your budget as well.
Frequently Asked Questions
Final Thoughts
India has witnessed a surge in affordable backpacks. Searching for backpacks in 2020 online was a simpler task, but that is not the case in 2021. As you search on the internet, you will find plenty of options in the market. Amazon, Flipkart, and Myntra have plenty of options to choose from.
Reddit and Quora are filled with reviews, praises and complaints for backpack brands in India. Only time will tell how 2022 will witness a surge in products!
Buying the best backpacks can be highly challenging when you have no idea where to start. You can make the process easier when you know how to select from the various options to find the perfect match.
Also, backpacks can never be one-size-fits-all. So, it's important that you list your requirements to make it easier to select one among many.
Now, you have it all, the reviews of the top backpacks under 1,000 rupees, the buying guide, and FAQs to help you in your buying journey.
So, grab the deal before it's gone!