Are you a new homeowner with a big, new lawn to manicure? Maybe you are looking to make some extra money on the side cutting lawns commercially. Whatever the situation, you've no doubt heard the names Briggs and Stratton and Kohler.
These are without a doubt two of the more popular lawn equipment manufacturers. Mid-size lawn or a small backyard? It won't matter because you'll find what you need with the Briggs and Stratton and Kohler names. Both offer solutions for any lawn cutting job you could imagine, but which is the better investment. Which one is better for commercial purposes?
How Do They Compare?
When it comes to Briggs and Stratton vs Kohler, one of the very first things most people consider are the engines? Is Briggs & Stratton motors good?
Since the engine is the most integral part of any machine, it only makes sense to consider the motor first. Briggs and Stratton offer a variety of motors in various sizes.
Take their 725EXi, for example. This engine can produce 7.25 ft-lbs of gross torque, making it one of the most powerful options on the market today. One of the more notable features of this make is that it requires little throttle to produce big power.
Is Kohler motors good?
You better believe they are just as every bit good as Briggs and Stratton. One of the first notable things about Kohler is that their motors are produced in the United States, so you can rest assured you are getting quality with the Kohler name.
The next time you wonder where are Kohler engines made, you won't have to think twice about it. Kohler also offers a variety of sizes and designs, but one of the biggest things is their durability and dependability.
With just your regular maintenance routines, you can make a Kohler engine last for years.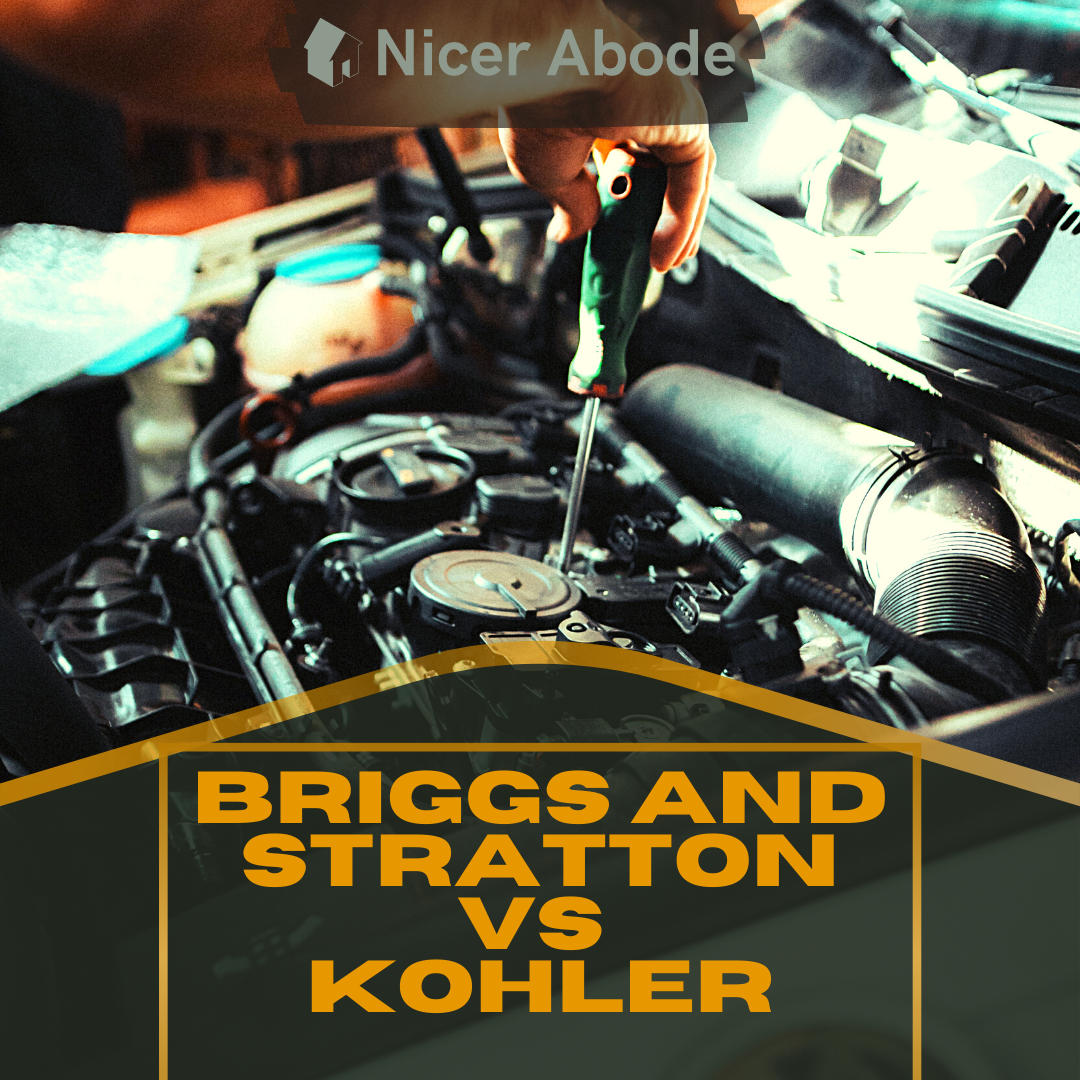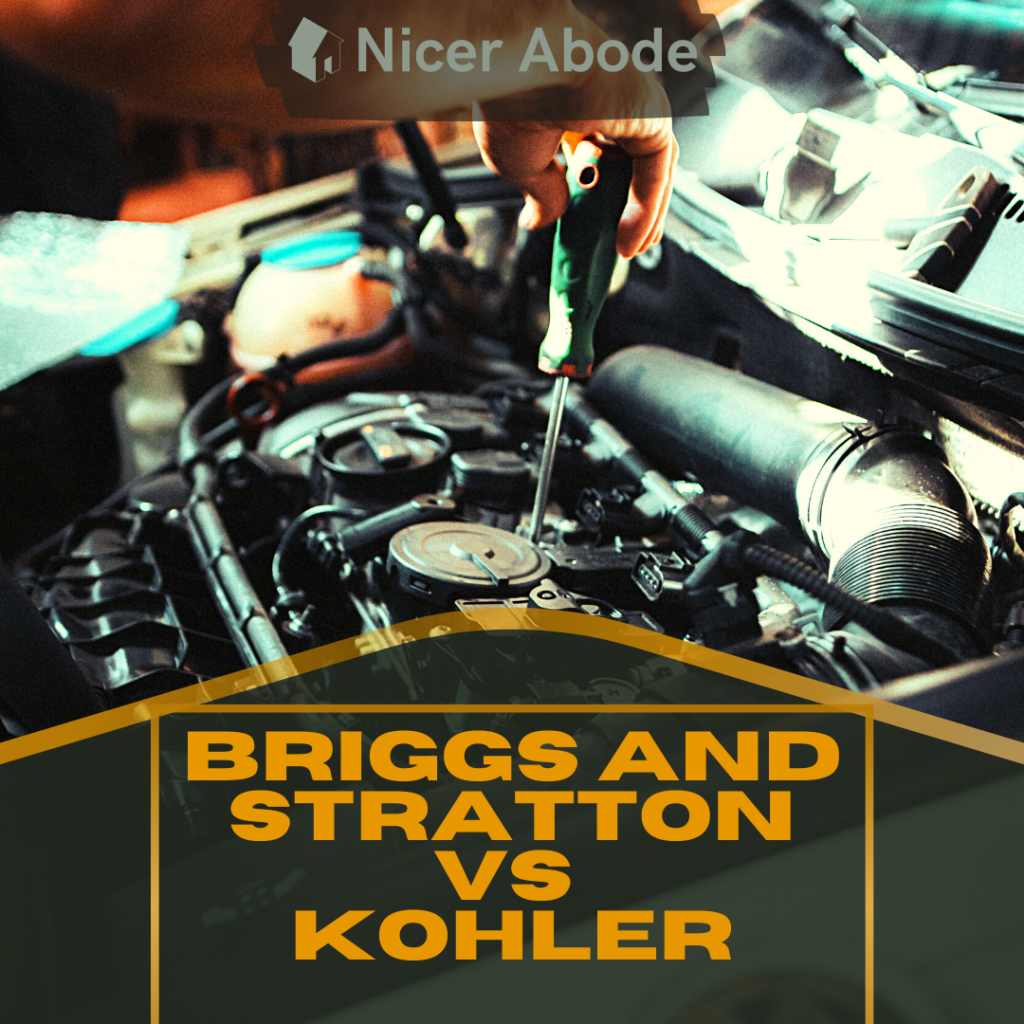 Comparing Briggs & Stratton With Kohler
You can see from the information above that both Briggs and Stratton and Kohler offer an enviable engine. Not only this, but each of their models has unique features that make them different from the other.
Take the SmartStow feature offered by Briggs and Stratton. This feature is unique, as it allows you to store the mower in an upright position. If you are limited on storage space this is certainly something worth considering, as it'll save you tons of storage space.
In addition to this, the same model offers easy starting functions. Sometimes starting a cold motor is more complicated than it needs to be. Luckily, this is something you won't have to worry about when investing in the Briggs and Stratton name.
Kohler certainly isn't lacking when it comes to features either. One of their models offers one of the most innovative fuel tank designs you'll come across.
Gas is expensive and you don't want to waste a drop when filling your mower.
The Kohler tank design makes the process easier and more intuitive than ever. It's completely hassle-free, as utilize the latest technology of Accu-fill.
The vertical fuel neck is slightly angled and features a 45 percent large opening than what you'll find with most mowers, making the filling and refilling process easier than ever.
With the smart-choke system included in some of the models, you won't have a problem starting your Kohler any time of the season. In addition to the smart choke, there is also an easy pull recoil. This makes cranking the mower easier.
The friction that you normally face when starting a small engine won't be there with this design. This is an excellent option for elderly individuals or anyone with previous shoulder injuries.
Some of their other design also boasts an array of smart features that help save energy while making other cutting processes easier.
Replacement Parts: Are Parts Easy To Find?
Briggs & Stratton
Because they have been around for so long, Briggs and Stratton parts are literally a dime a dozen. You can find replacement parts at just about any hardware store.
Kohler
While Kohler hasn't been around as long as Briggs and Stratton, you don't have to worry about tracking down parts because they are American-made. The Kohler Company was founded in 1873 by John Michael Kohler in the United States.
It is probably their Wisconsin plant that is the most well-known. They don't just offer lawn equipment here, but they offer plumbing products, furniture, cabinetry, tile, engines, and generators.
It should be easy to see how Kohler is quickly becoming an American household name.
Both manufacturers are more than dependable and will last with proper maintenance and care. However, if do find yourself in need of replacement parts, you won't have a problem finding either one.
That being said, it will probably be easier to track down Kohler parts, being that they are an American-based company.
Just in case you are wondering where are Briggs & Stratton engines made, you'll be glad to know that they are also an American Fortune 500 company. Their headquarters are based in Wauwatosa, Wisconsin, but they also have 8 facilities in Australia, Brazil, Canada, China, Mexico, and the Netherlands.
When it comes to Kohler vs Briggs and Stratton, it's hard to pick a clear winner. It honestly comes down to the features you need. Each manufacturer offers some distinctive features that help them stand out.
Most Notable Makes And Models
As was mentioned above, both manufacturers create various sizes and models of lawn equipment. However, some have grown to be more well-known than others.
Courage Series
7000 Series
The XT Series
The XT Series falls into what is known as the walk-behind category. These mowers come packed with features that make them easier and more enjoyable to use. One such feature is the quick start. This innovative feature makes starting the engine easier than ever, even when the temperatures are cooler out.
ALSO READ: KeepRite vs Carrier
The XT Series is also a good option for anyone that doesn't have a lot of time to invest in repairs and maintenance. They are dependable and require little more than the average maintenance and upkeep.
The Courage Series and 7000 are what would be considered riding mowers. While these are good for residential use, they are built with power and torque in mind. Just take the Courage Series for example.
This series comes available in both twin and single-cylinder engines. It also features a larger engine displacement that makes handling all that much easier as well. There isn't a lawn alive that this series couldn't tackle.
The 7000 Series boasts a V-Twin engine that offers good displacement as well. Along with this, you'll find stellar features like air cooling and quick starting.
After Thoughts
At the end of the day, you can't go wrong with a Briggs and Stratton or Kohler. Both have a wide section of mowers to choose from. It comes down to the type of property and a little bit of personal preference.
Some people swear by the Kohler name, whereas there are those that won't stray from the Briggs and Stratton brand. Power, size, and versatility.
It won't matter what you are looking for, you'll find it with either manufacturer.