With smart meters gaining popularity in recent times, many homes in the UK are eager to install them. However, if you're not aware of what a smart meter is and how they can make your life easier, it's completely understandable. You may have several questions about them. So what are smart meters? Are smart meters good or bad? What are the advantages and disadvantages of smart meters?
Smart meters can offer a marginal financial gain, but they may also provide a series of other benefits to the user based on their needs.
This guide will help you understand the concept of smart meters and how you can benefit from installing them.
Are smart meters good or bad?
Smart meters can provide users with several advantages. They can help you reduce your energy bill, enhance your grid efficiency, and are better for the environment.
But are there any disadvantages to smart meters?
Yes, as with all things, smart meters may not be the best choice for you.
To help you understand the concept of smart meters better, we have provided a pros and cons list below. These pros and cons depend on how you look or use them, depending on your needs.
Pros
Automatic meter readings: Since smart meters rely on automatic transmission, you don't have to submit or provide your meter readings. The energy supplier collects these readings based on the information provided by the smart meter.
Enhanced grid efficiency: Smart meters let you see what your energy requirements are, spotting ways where you can be more efficient.
Know what you are spending: Smart meters allow users to calculate their expenses as these meters also display your energy consumption in pounds. This feature will help you save money, which is not present in standard meters.
Financial savings: Customers with smart meters are being given greater insights into how much energy they are using. This makes it easier for them to manage their usage and ultimately lower their bills by cutting down on unnecessary spending. According to a government report published in 2019, it is expected that across Great Britain we would save £5.6bn.
Pay what you use: With smart meters installed in your homes, you don't have to estimate your bills . Instead you pay for the energy based on your consumption.
Get alerts on payment: Smart meters keep you updated about your usage without fuss. You can set up notifications & stay up-to-date on your account balance – even when you are away, your energy provider will still send all relevant alerts to you. Additionally, you can make the payment using your mobile devices without visiting a physical store.
Easy to switch suppliers: With smart meters installed in your homes, you don't have to worry about switching energy suppliers (SSE, EDF, Npower, EON, etc). Since these meters are automatic, your information syncs seamlessly with your new service provider without breaking a sweat.
Environmental friendly: Smart meters can help you measure your energy consumption and this will allow you to reduce your energy usage. This will contribute to saving the environment.
Get exclusive supplier deals: Many suppliers prefer homes that have smart meters. You can get exclusive deals, such as personalized tariffs based on your energy requirements.
Cons
Savings depend on your behaviour: Smart meters can save you a lot of money but you have to do your part by using less energy. The more you monitor your usage, the more effectively the smart meter runs and improves your situation.
You may pay more: Since smart meters are a collective effort of several energy sectors, the cost you pay might become more than your usual payment cycle. 
Limited customer reach: Some energy suppliers have been experiencing problems in their upgrading processes and are not providing as many smart meter features as they should. If you want to benefit from these features, you may need to wait and contact your supplier.
Poor signal for some houses: Some houses may experience poor radio signals, which can cause interruption between your meter and supplier. This is not a fault in the readings being received but rather due to the very nature of radio transmissions. When this happens, users will need to note the meter reading manually and inform their supplier accordingly. Additionally, you may also encounter this problem if you receive a faulty smart meter.
Privacy concerns: Installing a smart meter comes with new risks to privacy – automation and communication with service providers means you risk sharing your information (email, location, network API keys) to them.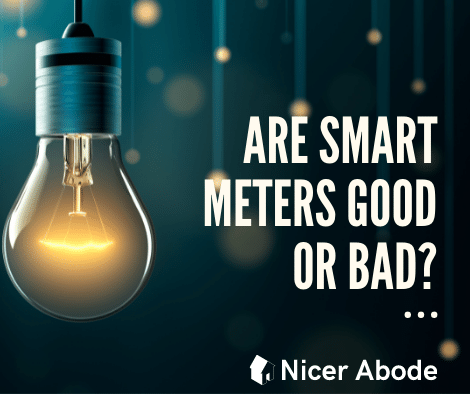 Are smart meters bad for health?
Absolutely NOT, smart meters in no way pose a danger to your health.
Smart meters emit radiation as any digital device, but its well within international guidelines.
They have no significant health implications and are a safe way to measure your energy consumption.
In fact, according to reports published by the Public Health Department UK, smart meters produce lower radio waves than WiFi equipment and mobile phones.
Additionally, their exposure also meets the International Commission on Non-Ionizing Radiation Protection guidelines.
What are smart meters?
Smart meters are electronic devices that record power factors, electric energy consumption, current, and voltage levels. These meters let users see their bills, how they're using their service, your business info and more. Here is the Wikipedia link for more interesting history on smart meters.
FAQs
What happens when I switch between energy providers?

When you switch energy providers, the smart features your account has with your current provider may not transfer and you will have to manually share them with the new provider. This can be frustrating.

However, this problem is persistent with first-generation smart meters and can be solved by upgrading your smart meter or your wireless network. It would be best to check and evaluate before switching energy providers.

How to read or check a smart meter?

Whether you live in a smart meter rented property or have it installed in your home, smart meters may sometimes require manual reading. Thankfully, smart meters don't have a complex display system, and you should get to your desired information with a few scrolls or clicks.

It would be best to check your supplier's website or read the instructions before proceeding.

Do smart meters work with solar panels?

Since in-home displays only show the amount of energy bought from your provider, they will not display the power you generate from your solar panels. With future upgrades to your smart meters, you may be able to get accurate readings of your solar panels.

It would be best to check with your supplier whether your in-home display or the smart meter will work with solar panels.
Wrapping Up
Are smart meters good or bad – This is a tough question to answer. It depends on personal preference and your energy usage, as I said earlier. The disadvantage here is they cost money and they have a limited life span. They also don't tell you the best way to save energy if you are running out of it so quickly. It's important to monitor your usage and draw conclusions every month.
However, smart meters may become the next big thing in the future, and we'll wind up this article on that thought.