If you're building a new house, you cannot deny the versatility of corrugated metal sheets. They are durable and require low maintenance, unlike other materials.
Corrugated metal sheets are the first choice for roofing among architects and builders. They are also an excellent option for the sides, floor, and decking. What's more, they are long-lasting and can be recycled for other useful purposes.
Are you a Canadian resident working on a building project that requires corrugated sheets? If so, you have come to the right place. This article will primarily focus on where to buy corrugated metal sheets (Canada).
Best Places to Buy Corrugated Metal Sheets in Canada
Below, we will give a list of places where you can buy corrugated metal sheets in Canada.
1. Metalworks Canada Ltd
Since 2000, Metalworks Canada Ltd has been providing quality exterior products. The privately-owned company is based in Calgary, Alberta.
Whether you're looking for residential, industrial, or commercial purposes, Metalworks has it all. They deal in metal panels for roofs and sides, cold/hot rolled steel, drainage systems, etc. And let's not forget corrugated metal sheets as well.
You will find the corrugated sheets in their Standard Series panels. They currently have 7/8 inch and 1/2 inch varieties in various colors. Aside from these, you also get classic, diamond, and rainbow rib panels, etc.
While you're there, check out their new products, including the new Heritage Series panels. These panels will work wonders with your modern homes. You will be pleased to hear that Metalworks also offers custom fabrication.
Contact Information:
2. Dura Shelter Buildings
Are you looking for corrugated sheets in Ontario, Canada? Your next stop should be Dura Shelter Buildings.
The company has been in business for 15+ years now. And they deal in several structural materials for all your building needs. Dura Shelter also promises that its products are portable, robust, and affordable.
They have tons of materials for agricultural, commercial as well as residential. Aside from stock products, you can also get custom designs from Dura Shelter. And they strive to ship every order as early and fast as possible.
The corrugated metal sheets Dura Shelter offers are top-notch, durable, and fully customizable. They currently have five varieties, including 36, 12, and 18-inch variants. Plus, you can buy them in different colors, including grey, red, black, etc.
Dura Shelter's value is unbeatable. You can get these sheets anywhere between $27-$40. And there are attractive discounts if you order in bulk.
Contact Information:
Phone: 705-896-2628
Website: www.durashelterbuildings.ca
Address: Angus, Ontario, Canada
Email: orders@agdirect.ca
3. Forma Steel
Forma Steel is another reputable dealer from Western Canada who deals in building needs. They have a range of residential, agricultural, and commercial products.
Forma Steel is one of the top suppliers in Western Canada. Their roofs and side panels are available in various gauges and finishes for your projects. And reliability and longevity won't be an issue with their products.
Forma Steel offers corrugated sheets in two varieties. You can get them at 7/8 inch with a 36-inch coverage. These sheets are available in 24 and 26 gauges, suitable for roofing and siding.
Contact Information:
Phone: 403-553-3309
Website: www.formasteel.ca
Address: 443 12 Street, Fort Macleod AB T0L 0Z0
Email: orders@formasteel.ca
4. Country Towne Building Supply
Country Towne Building Supply is another company that promises excellence and reasonability. They are a building supplier from Chatham-Kent, Ontario.
Whether you need corrugated sheets for your home or business, Country Towne won't disappoint. Their product gallery consists of everything from roofing to accent panels.
Their smooth, embossed corrugated sheets are a highlight. With a 1/4 and 3/8 inch coverage, these sheets come in various colors.
And if you want to install the panels yourself, check out their "Do it Yourself Metal Roofing" section. It mentions everything from tool requirements to basic knowledge.
Contact Information:
Phone: 888-674-6570
Website: www.countrytowne.ca
Address: 13127 Gosnell Line, Chatham-Kent ON N0P 2C0
Email: info@countrytowne.ca
5. Westman Steel
For all your building projects, you cannot deny the service and quality of Westman Steel. With over 35 years in the business, they are one of the leading steel manufacturers in Canada. Along with their host of partners from the Westman Group, they aim to provide innovation and efficiency.
Corrugated sheets are applicable in several building projects. That is why Westman Steel offers products for application in industrial, agricultural, and residential needs.
You will find everything from regular sheets to SnapLok panels. You can get corrugated sheets anywhere between 1/2 inch and 7/8 inch. Other notable products include rainbow and diamond ribs, deck mate, steel profile ultraspan, etc.
Contact Information:
Phone: 1-604-532-0203
Website: www.westmansteel.com
Address: 5741 Production Way, Langley, BC V3A 4N5, Canada
6. Home Depot
Home Depot is the go-to store for almost everything related to construction and tools. And there are over 182 Home Depot stores in Canada. What's more, Ontario alone has over 108 stores spread out in various locations.
Check into your local Home Depot. You are sure to find corrugated sheets of various kinds there.
7. Rona
Canada's own Rona is the holy grail for all your construction-related services. You will find uncountable options in the roofing and siding category.
Plus, Rona exclusively deals in construction and building products. Thus, you will find expert advice and guidance if you buy from them.
8. Lowe's
With over 60 locations, Lowe's is another choice for your home improvement needs. You can find everything from building tools to home appliances here.
And the list of products they offer also includes corrugated metal sheets. Find an array of options when you walk into your nearby Lowe's store.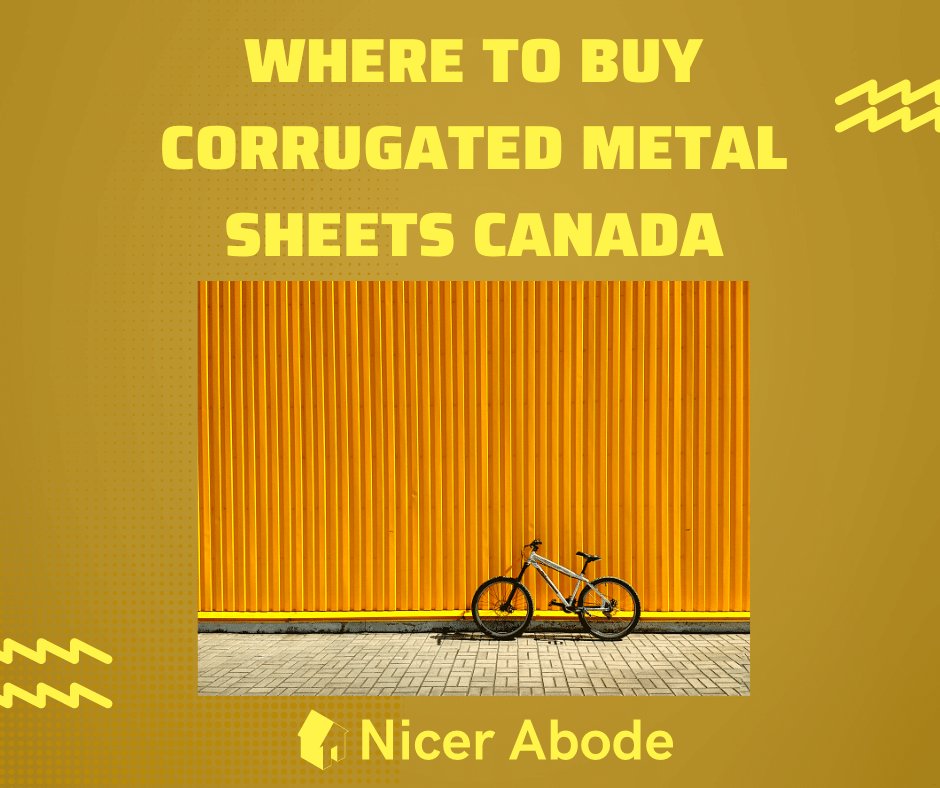 Things to Keep in Mind While Buying Corrugated Metal Sheets
Cost
Get ready to invest more if you decide to use corrugated sheets for your projects. Of course, they won't cost you an arm and a leg. But they are costlier than other popular materials like aluminum or wood.
Plus, the prices vary from gauge size to coating. But if you invest in them, they will serve you well. They last longer than other options, thus saving you time and money.
Routine Inspection
Corrugated sheets have one flaw. And that is their exposed fastening system.
These fastening tabs are on the exterior and exposed to dust and moisture. Thus, you need to check them routinely to ensure they stay intact or prevent corrosion.
Keep Track of Every Detail
Corrugated sheets come in different colors and sizes. Make sure you know what to choose before buying.
Carefully observe when they mention prices, caveats, etc. This is vital knowledge if you plan to install them yourself.
Look up Every Location
Another essential tip is to look hard. Try to cover all popular places in Canada (Ontario, etc.). There are hundreds of local businesses as well.
These dealers can provide expert advice and also offer great discounts. Plus, you're supporting small businesses at the same time.
Other Questions About Corrugated Metal Sheets
What Size Sheets Does Corrugated Metal Come In?
Corrugated sheets come in various sizes. You can find them in 24, 26, 29, etc., gauge, and 8-24 feet sizes. Different manufacturers will have different sizing for their products.
Is Corrugated Metal Expensive?
Compared to other materials like wood, corrugated metal is costlier. This is because they're more robust and long-lasting. However, they are not crazy expensive such that you end up spending hundreds on a single sheet.
What Are Some Stores Where I Can Get Corrugated Metal Sheets Near Me?
The quickest way to obtain corrugated sheets is by visiting your local Home Depot or Rona store. You can also keep track of family-run hardware businesses.
Closing Thoughts
Corrugated sheets are worth the investment. Yes, you will end up spending a bit more. But they will serve their purpose and save you a ton of time and money in the long run.
We hope this list helps you find the nearest store to buy corrugated sheets in Canada. I hope we have answered your query: where to buy corrugated metal sheets canada