Hobby Lobby Stores Inc. is one of the most famous American retail companies. It has its own chain of stores specializing in arts and craft materials, earning over $5 million as revenue in 2018.
Founded by David & Barbara Green in 1972, it stands out from the other stores as a store with Christian conservative values and incorporation of Christian media.
Out of the 50 states in the US, Hobby Lobby has stores in 47 states, with so far, a total of 969 stores overall. It also has offices in Hong Kong, Yiwu, and Shenzhen in China.
With their headquarters in Oklahoma City, the Hobby Lobby stores contain a large variety of home items featuring decor, tableware, arts & craft supplies, jewelry making products, fabric, yarn, season decor like Christmas as lights, and so on.
The companies taking the role of affiliations include Mardel Christian & Education Supply. These brands provide Hobby Lobby with a supply of books, church and educational supplies (including materials for homeschooling), Bibles and gifts, etc.
Of these products found in Hobby Lobby, balloons are one of the main birthday party supplies sold in the stores. In today's article, we will be looking into Hobby Lobby and answering the most frequently asked questions like:
Does Hobby Lobby blow up balloons?
Does Hobby Lobby blow up balloons bought at their store?
Hobby Lobby provides a large supply of different types of balloons both in the physical stores as well as on the online website.
However, it does not provide any inflation services inside the store itself. So, you will have to buy them from the stores but blow them up yourself.
What Does Hobby Lobby Sell?
Perhaps, you're bored on the weekends after a long week of work. You have nothing to do, and you decide to take up a new adventure with a hobby. Now, what could fund these hobbies if you require specific materials? Many stores, including Hobby Lobby, can help you with that.
Hobby Lobby is primarily known for being an arts and craft chain store. It is called so partly because it usually contains various types of appropriate products when it comes to people and their hobbies.
Their selections include affordable products that you may require when you're about to start a new hobby, such as picture framing, fabric, and other sewing materials, party tools, floral & wedding supplies, picnic supplies such as baskets, jewelry making supplies, wearable art, holiday decorations, and so on.
"Does Hobby Lobby sell helium balloons?" you may ask. Well, yes, helium balloons are part and parcel of the partying kits, and they are available in all shapes, colors, and sizes.
These balloons are ideal for any type of occasion, from birthdays, engagement parties, sleepovers, retirement parties, or simply for everyday use.
The store also sells helium canisters that are very affordable, and they can be used to fill up to a total of 50 balloons. These balloons can be filled to last for over 7 hours as they beautify your festivities. They are, however, sold separately from the helium tank.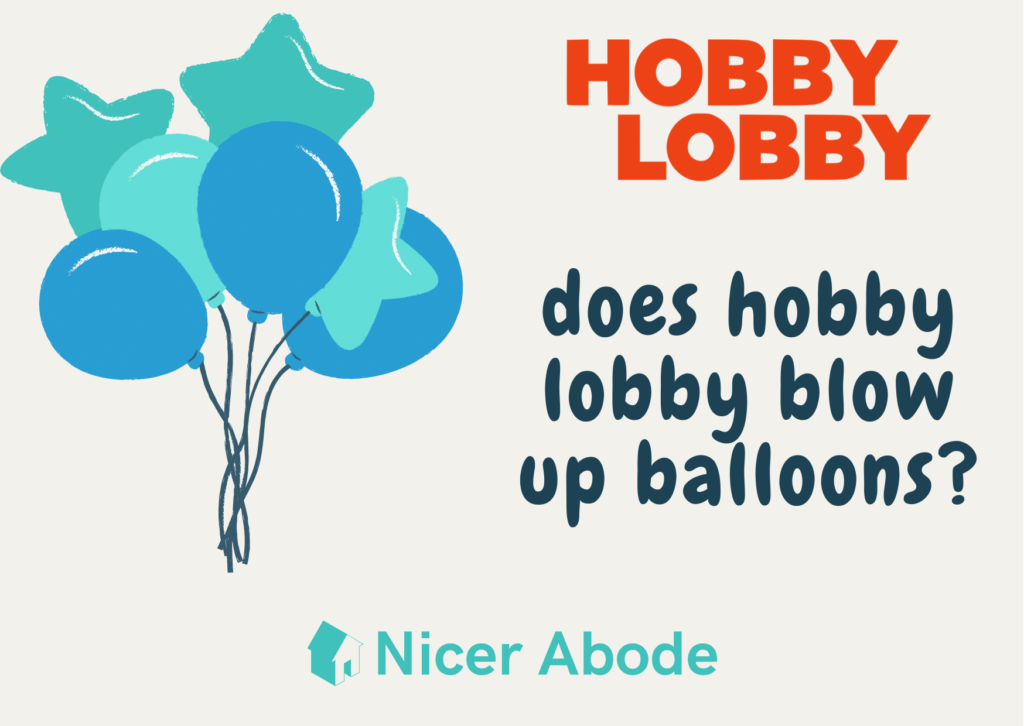 Who Blows up Balloons for Customers?
Hobby Lobby sells a large selection of balloons inside their stores, but you may wonder, "Does Hobby Lobby blow up balloons bought elsewhere?" Actually, Hobby Lobby does not inflate the balloons bought from their store, so blowing up balloons from other stores is out of the question.
Here is a table overview of Hobby Lobby and different balloon types:
| Balloon Type | Will Hobby Lobby Blow It Up? |
| --- | --- |
| Latex | No |
| Vinyl | No |
| Mylar | No |
Despite Hobby Lobby's inability to reach your requirements, other retailers will do so. There are many stores where you can purchase balloons from and ask them to blow them up for you. These stores can include The Dollar Tree, Walmart, Dollar General, CVS, Kroger, and so on.
The above-mentioned retailers have availability in services to help you inflate your balloons. The charge is highly dependent on what size and material your balloon is. If you're using a latex balloon, you can fill it at the price of 0.99 US Dollars, but filling up foil balloons will be more expensive.
Rental Helium Tanks
Many questions may arise regarding Hobby Lobby and its helium tanks. Some people wonder why helium is so expensive and if the Hobby Lobby helium tanks are cheap. Does Hobby Lobby rent helium tanks? If so, what is the price of helium tanks at Hobby Lobby?
The American store does not allow rental services on their helium tanks. You can always buy the tanks, which are priced at $49 and lower on their site or in physical stores. They can be refilled when the gas has lessened or finished.
However, many other stores allow you to rent their helium canisters. You can make a choice within the wide variety, which includes Dollar Tree, Party City, Walmart, etc. You just need to pick the refillable tanks that are portable.
Others Things You Should Know About Hobby Lobby & Balloons
Does Hobby Lobby Have Helium Balloons?
Hobby Lobby includes a wide variety of balloons that come in all shapes, sizes, and colors. From banner balloons to alphabet or word balloons, the store offers balloons for all kinds of festivities. These include engagements, birthday parties, etc.
Does Hobby Lobby air-fill balloons?
No, Hobby Lobby does not air-fill balloons. However, they do sell balloons that can be filled elsewhere. Kroger is a retail store that allows balloons from other stores to be inflated in their stores. It is usually cheap at $0.99 for a latex balloon and higher for foil balloons.
Why are helium balloons expensive?
Helium is a gas created by the decaying radioactive rocks within the crust of the earth. The crust accumulates its deposits in natural gas, and Helium is collected as a by-product of this industry of gas.
Separating Helium away from the natural gas takes time and effort, and this difficulty leads to the rise in the price of the gas; therefore, helium balloons are costlier.
Wrap Up
Hobby Lobby has a small audience but, however, contains good products that have full refundability. Among the Craft & Supplies section ranks, it took the 66th place.
If you are a recently retired senior or a student who needs materials for your school project, the Christian store will bring you lots of varieties, from decor and seasonal products to craft and party supplies.
They constantly run discounts on any day of the week, and you will always be able to find affordable products that are of good quality. So, a visit to one of the stores or the website will help you in many creative ways.