We've all heard it from the grapevine that furniture from North Carolina is cheaper and better-made. But is it worth buying furniture in North Carolina? The short answer is yes! North Carolina is one of the leading suppliers in the county. But how exactly did this happen?
Around the 20th century, the Post War economic boom meant many people were buying many homes. But very few factories were present to furnish these new homes. There was a void in the market for furniture supply. Plus, the majority of the northern states were only manufacturers of steel and automotive.
North Carolina and other southern states responded to this new demand for furniture. New industries and stores sprang up in the free areas of the southern states. And for a long time, they were the sole suppliers of furniture in the US.
So, even after decades, how does NC continue to be one of the best places for furniture? Read on to find out.
Is it Cheaper to Buy Furniture in North Carolina?
Yes, it is very much cheaper to buy furniture in North Carolina. Furniture is cheap in NC because most of the stores make their own furniture. Plus, there is no shipping cost on the furniture. Factories usually have their own outlets, and they are usually close by. Even if furniture moves from the factory to another outlet, it is still within the state.
Another force affecting price is competition. Manufacturers have no choice but to follow market prices and standards. They cannot mark up high prices for furniture on their own. Products won't sell if it is more expensive than the competing brands. People are also aware of the actual value of the furniture. And if stores mark prices a little higher, it will not perform well.
Why Buy Furniture in North Carolina? Is It Worth Buying Furniture In North Carolina?
The main reason to buy furniture in North Carolina is the price. You can get furniture marked at low prices. And if there are discounts, you'll get it at prices even cheaper than the already low market price. You will hardly find similar deals elsewhere.
NC is known as the furniture capital of the world. But people call it so not because NC makes the most furniture. In fact, it is only the 3rd highest producer of furniture in the US. North Carolina holds this title because of its high-quality furniture. And because of the many 'furniture cities.' In particular, one city called High Point.
High Point is a very good reason to visit and shop in NC. This single city is home to some of the best brands and outlets for furniture. It would take you days to go through the options the city provides. And if you're not satisfied, then Hickory is about an hour's drive away. Hickory is another great city to shop for furniture.
Is North Carolina Furniture Cheaper?
When we compare prices, North Carolina furniture is cheaper than other states. It is possible due to several economic reasons. Here are some of the main ones:
North Carolina has the lowest income tax rate in the US. So, manufacturers have less expenditure on their budget. With less expenditure, the pricing of the furniture is low.
North Carolina has abundant skilled professionals who live within the state. So, manufacturers need not outsource workers to get an efficient workforce.
The state is the 5th largest producer of lumber. So, NC rarely ever imports lumber for their products— it is all homegrown.
The electricity tax in NC is also 8% lesser than the national average. So, factories pay for resources and capital at very low rates.
All these factors work together to influence pricing in the state. As such, customers have noticed the difference in prices. Many say that furniture prices are more than 50% less when compared to furniture in other states.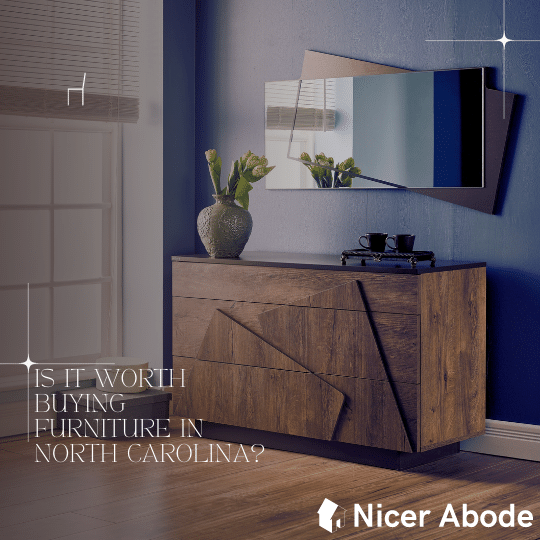 Furniture Stores in North Carolina
If you're ever on a trip to North Carolina, here are some of the best furniture stores to check out:
Ashley Furniture
Ashley Furniture or Ashley Homestore is a pretty old furniture company. It is one most prominent furniture makers in North Carolina. This company has manufacturing units in both America and China. So, their furniture comes in all price points— both luxury and budget. Even if you're not in NC, Ashley Homestore has many outlets across the country.
They provide great sectionals and sofas, bedroom sets, and recliners. Their Signature Design catalog is one of their best offerings. And they are great if you want to furnish entire rooms.
Their higher-end products are very durable and well made. But their budget selections might not be as well made. Customers have also given mixed reviews for their products. So, for budget pieces, make sure you do a proper material and product study before purchase.
Amish Furniture In North Carolina
The Amish make furniture from their heart and soul. As such, many customers believe that Amish furniture cannot compare to other furniture. Probably because of the timeless style and sophistication.
But just because something is Amish-made doesn't mean that it is of good quality. So, we've listed out some of the best Amish owned furniture stores that you can shop from in North Carolina:
Patterson's Amish Furniture
This store is in Morganton and provides rustic pieces that are sturdy and durable. From sizing to material, their furniture is customizable to fit your needs. They have everything for the bedroom, kitchens, and even for the outdoors. Prices can be a little higher up, but customers have said that their furniture is made to last.
Heartland Amish Furniture
The company is fairly new, but its products do not disappoint. Every one of their handcrafted pieces uses sustainable methods. Plus, Heartland uses the finest lumber for its furniture.
Many customers have given glowing reviews for their furniture and their customer service. So, head over to their showroom in Asheville if you're ever around.
Vanguard Furniture
Vanguard Furniture famously started with just 2 employees and a manufacturing facility. Now the company has over 600 employees and has become a top provider for furniture. They are a fashion-driven brand. And they focus on providing current trends in timeless designs. One of their goals is to be the most customer-driven company, so customer service is always valued high.
Vanguard uses "lean manufacturing" methods that cut waste and increase sustainability. Their prices are from mid-range to luxury, with top-class materials. Most customers also seem to be satisfied with their purchases. But some customers have cited warranty issues with Vanguard. The company sometimes fails to fulfill the promises in the warranty. Yet, it is still a great pick!
Wrapping Up
North Carolina is still a great place to shop for furniture. The prices continue to be cheaper than their competition. And even if you ship out the products from the state, you're still bound to get a great deal. The sheer number of stores within the state and the craftsmanship make NC a must-visit if you're looking for furniture.