If you're a cooking enthusiast, you'd probably know the importance of good quality cookware. It helps you cook efficiently, allowing one to enjoy the whole cooking process.
Various types of cookware are available in the market today. And it can be pretty confusing to choose one if you are new.
Always Pan and Caraway are popular brands well-known for their quality and non-toxic pots and pans. So, if you were to choose one cookware set for yourself, which brand would you prefer?
Perhaps this comparison article between Always Pan vs Caraway will help you decide and choose one that suits your needs and requirements.
Caraway vs Always Pan
Comparing products or brands helps one to weigh the pros and cons. It allows an individual to choose an item compatible with their budget, lifestyle, etc.
Caraway is a US-based company and has been in existence since 2018.The brand sells its products directly to the customers without the involvement of middlemen. Their cookware set is free of harmful toxins and comes with a chemical and environmentally-friendly ceramic coating.
Always Pan is actually one-piece cookware manufactured by Our Place. It's one of the brand's famous cookware known for its multiple functions. In this pan, you can make a sauce, soups, risottos, etc.
If you are new to cooking or don't cook often, you can opt for a pan from Always Pan. It's multi-functional, easy to clean, and super slick. Additionally, this pan has a resting place to keep the spatula. And you'd be glad to know that this pan comes with a wooden spatula.
But if you prefer a whole cookware set, Caraway would be a good choice. The cookware consists of a saucepan, fry pan, dutch oven, and sauté pan. Additionally, it's easy to clean and maintain.
Check below the comparison table of Caraway and Always Pan:
| | Caraway | Always Pan |
| --- | --- | --- |
| Cost | It's budget-friendly. | It's costlier than Caraway. |
| Materials | The cookware set is made of high-quality aluminum with a ceramic coating. | This pan is made of non-stick ceramic coating. |
| Cooktop compatibility | The cookware is electric-safe and is compatible with induction and gas cooktops. | It's compatible with all cooktops, including induction. |
| Non-stick Pans | Yes | Yes |
| Oven-safe | It's oven safe and can stand heat up to 550F. | It's not oven safe. |
| Free of | It's free of PTFE(Teflon), PFAs, lead, cadmium and PFOA. | It's free of lead, toxic metals, cadmium, PFAs, PFOAs, and PTFE. |
Is Caraway Worth the Price
It's worth investing in the Caraway cookware set as it's environment-friendly, toxin-free, and harmful chemicals. Additionally, the cookware set is available in multiple colors, including red, blue, dusty pink, and more.
This cookware set is reasonably priced despite its high-quality and good durability factor. If you're looking for a budget-friendly cookware set, you should get one from Caraway.
Is Always Pan Worth the Price
The answer may vary as it depends on how you perceived it. The USP (Unique Selling Point) of Always Pan is the ability to various cooking styles in a pan. It's multi-functional and is compatible with all cooktops.
Although it may be a bit costlier than a Caraway's pan, note that it can perform various cooking styles. Additionally, it comes with a steam basket where you can steam vegetables or other dishes.
This pan from Always Pan will suffice if you have a small apartment and need cookware that can do all cooking types. It's worth purchasing if it meets your needs and requirements.
ALSO READ:
Lowes vs Home Depot Kitchen Cabinets
5 Disadvantages Of Chimney In Kitchen You Should Know About
Baffle Filter vs Filterless Chimney 2022 | Which Filter is Best For Kitchen?
Are Caraway Pans and Always Pan 100% Ceramic
One should note that cookware is considered 100% ceramic when constructed entirely with ceramic material. It should be devoid of metalcore, toxin, free and chemical material from the base to the interior.
You should also note that most cookware is composed of aluminum core for even distribution of heat. At the same time, the interior is coated with ceramic coating. And that we cannot say it as pure or 100 % ceramic cookware.
Caraway's cookware base is composed of aluminum and is coated with non-stick ceramic. Additionally, it comes with stainless steel handles. So, it's not 100% ceramic, but it's free of harmful chemical materials and is toxins-free.
Likewise, Always Pan's core base is made of cast aluminum, while the interior is coated with non-stick ceramic. It's free of toxins and doesn't use harmful chemicals in its cookware.
Although both cookware may not be 100 % ceramic, they are safe to use. It doesn't produce harmful fumes when it's exposed to high temperatures. Both brands are environment conscious and manufacture products that are safe and devoid of toxic chemicals.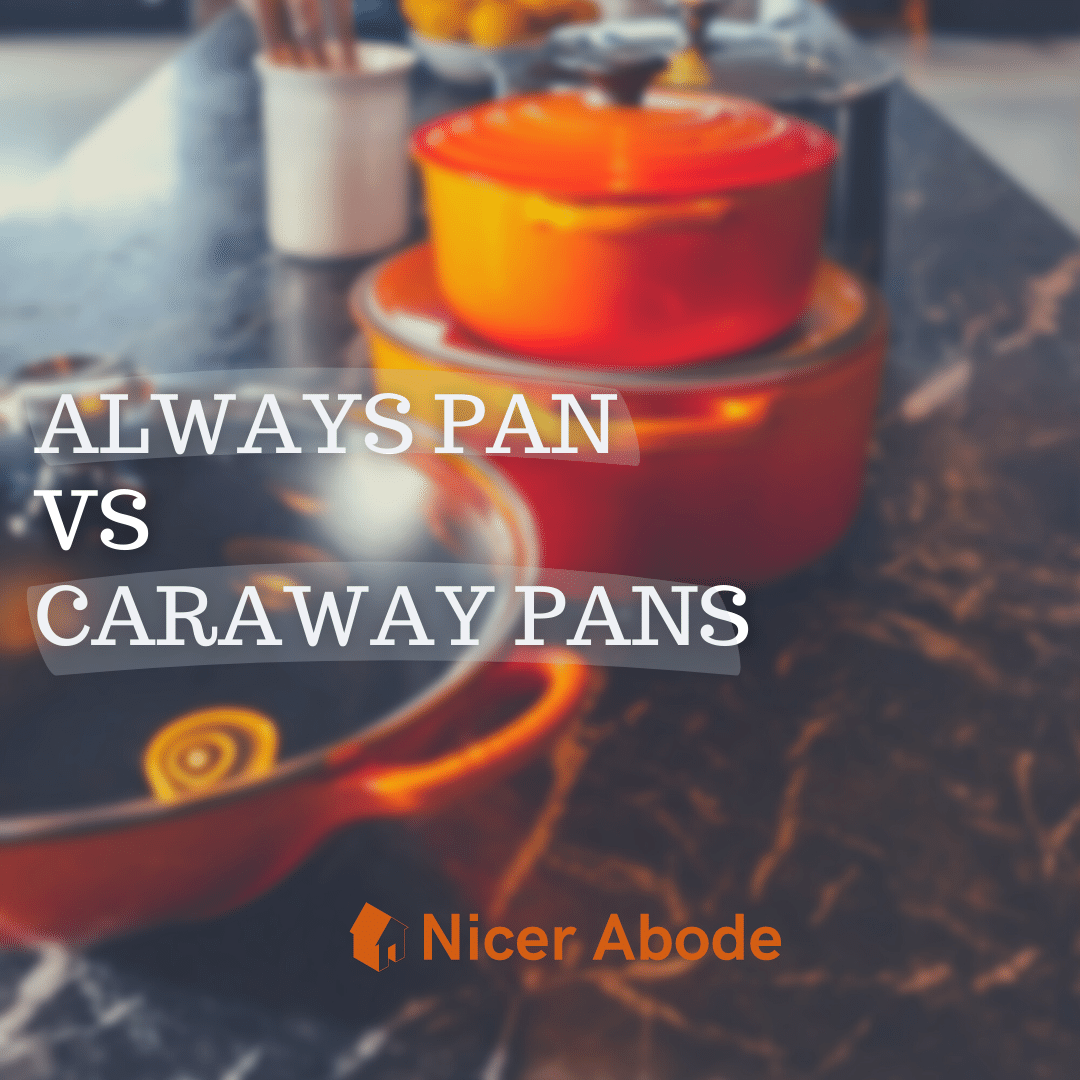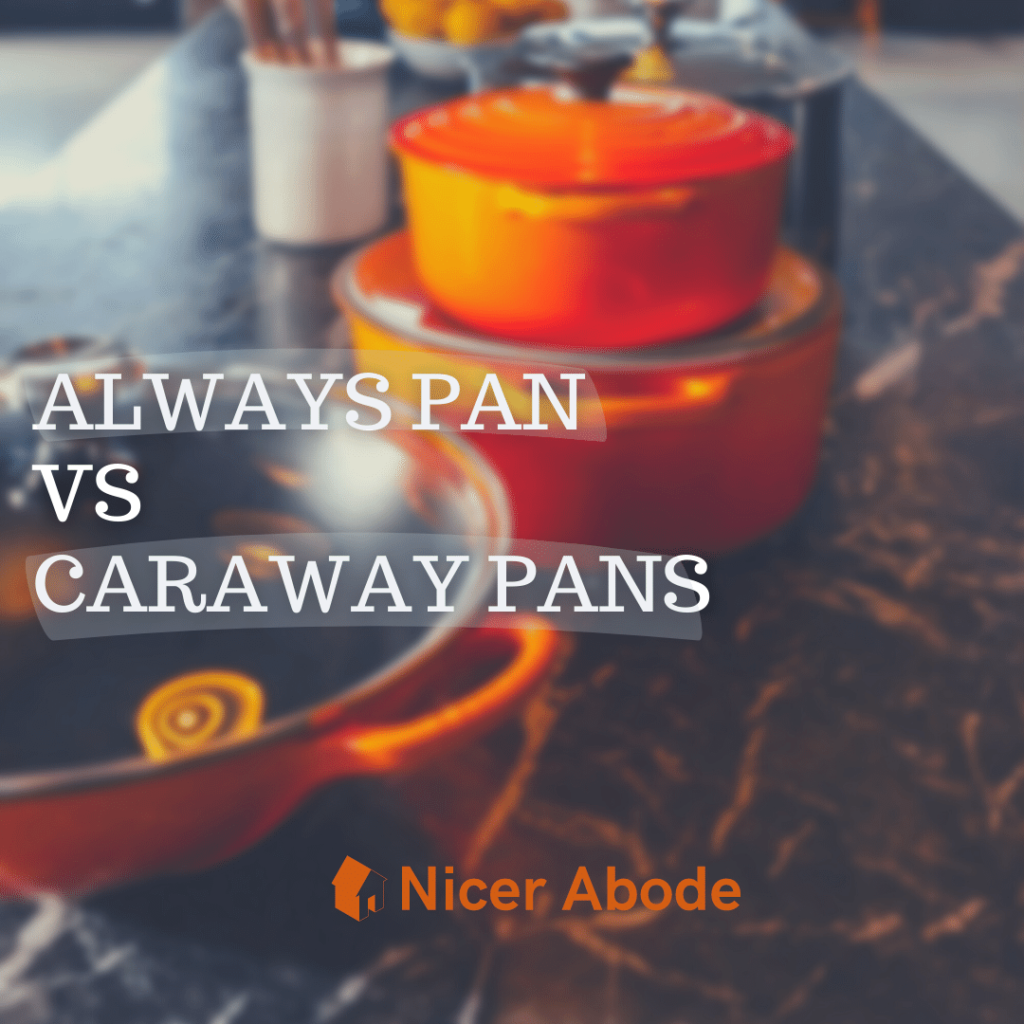 Other Things You Should Know
How Long Do Caraway Pans Last
It can last for a long time if you take proper care. Avoid using harsh scrubbers to clean the pan, and use a wooden spatula to prevent scratches.
How Long Does Always Pan's Pan Last
Always Pan's pans have an excellent durability factor, but it also depends on how you use them. Ensure that you clean it on time and avoid using rough scrubbers to clean them.
Are Caraway Pans Healthy
Caraway pans are healthy as they are free of harmful chemicals, including PTFE, PFA, lead, etc. The pans are safe, toxins-free, and don't produce harmful fumes when it's exposed to high temperatures.
Are Always Pan Healthy
Yes, Always Pan is healthy and safe to use. It's coated with a non-stick ceramic coating devoid of harmful chemical materials.
Wrapping Up – Always Pans vs Caraway
Investing in quality cookware is vital as it lasts long and is safe for your health too. Caraway is known for its environment-friendly cookware set and is available at a reasonable price. It's free of toxins and other harmful chemical materials.
Always Pan is a popular product manufactured by Our Place. Its multifunctionality aspect is one of the brand's highlighted features and has become quite popular among the masses.
Both are safe to use and devoid of harmful chemicals and toxins. The choice lies in you eventually. So, choose one that is compatible with your lifestyle and meets your requirements.