There exist many factors that go into deciding what a good mattress is. You thought about the size, design, colour and comfort. Two popular choices in India are Wakefit and Sleepwell. But now you're wondering which is the best mattress company: Wakefit or Sleepwell?
Since you're not sure if the mattress you're looking at will suit your sleeping style, we've prepared this carefully curated analysis on Wakefit vs Sleepwell. If you haven't read our previous breakdowns on Wakefit vs Sleepyhead, we would recommend you to go through them first. In this guide, we compare Wakefit and Sleepwell mattresses and look into various factors.
IN A HURRY? HERE'S THE SUMMARY
Across the board, we find that Wakefit is better than Sleepwell.
That's because, at very affordable rates, Wakefit offers top-quality durable mattresses with efficient features. It's especially great if you have orthopaedic issues.
Now that we have your full attention, let's dive into the article on Wakefit vs Sleepwell mattresses, and why we think Wakefit outperforms Sleepwell mattresses. Use our Table of Contents to quickly jump between sections.
Wakefit and Sleepwell At A Glance
| | Wakefit | Sleepwell |
| --- | --- | --- |
| Established | 2016 | 1971 |
| Warranty | 10 years | 5 years |
| Trial Policy (total number of nights) | 100 | 100 |
| Certified by | Green Guard | ISO 9001 |
Comparing Build Material Used By Wakefit and Sleepwell
Sleepwell uses NASA's very own temperature-based technology in order to make the fabrics that go into their mattresses. The NASA engineered foam is sensitive to temperature. This feature ensures you sleep well and have a quality, deep sleep. It also reduces stress levels.
WakeFit, for sure, is unbeatable in the category of soft and medium-sized mattresses. For the cover, it uses quilted cotton that is of the highest quality. On top of that, Wakefit offers mattresses made of memory foam that is high in density.
If you're someone who suffers from a sore neck and lower back pain on a regular basis, get the Wakefit mattress. It's also efficient in targeting pressure points and relieving you of stress while you sleep throughout the night.
Comparing Durability of Wakefit vs Sleepwell Mattresses
When it comes to durability, Wakefit mattresses are the clear winner. Wakefit mattresses are highly durable as each side of the bed can support up to a weight of 200 kgs. Therefore, in total, it can support up to 400 kgs for a double bed mattress.
Why is durability important? Mattresses are one of the most expensive items in your bedroom, but also typically last for many years. Durability and comfort should be optimized to get the best deal for you.
Durability also depends on your sleeping position. The way you sleep can have a huge effect on the durability of your mattress. Side sleepers exert higher pressure on low surface area of the mattress. A high quality durable mattress must not give in to such a pressure.
Sleepwell mattress requires a proper foundation for more stability and support. A bed with uneven foundation will damage the mattress sooner.
For mattresses from both Sleepwell and Wakefit, avoid sitting around the edges. Excess weight on the edges of a mattress can cause compression and damage to the springs.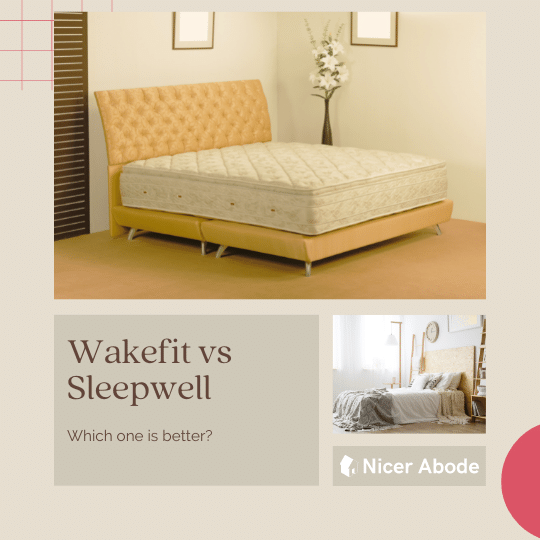 Do Wakefit and Sleepwell Mattresses Require Maintainance?
Both Sleepwell and Wakefit mattresses need similar efforts to maintain them.
Maintaining a mattress is a very important task and can be as simple as vacuuming or dusting the mattress regularly. This will remove any dust, hair, or other particles from the surface of the bed which might get lodged inside the mattress otherwise.
It's important to use a mattress protector. A protector helps prevent stains on the mattress, and is also very easy to clean since they are washable.
Sleepwell vs Wakefit When It Comes To Body Support
Sleepwell mattresses are designed for maximum support and comfort, and that makes Sleepwell mattresses very efficient.
It offers its users a stress-free and undisturbed sleep all throughout the night. The mattress maintains the structure of the spine and keeps it straight. It assists in distributing the weight evenly across the mattress.
The most efficient feature of the Wakefit mattresses is that it assumes the sleeper's body shape. It matters not which side of the bed you're sleeping on; your body gets uniform support.
That's especially helpful for people with orthopaedic issues. The Orthopaedic mattress will firmly distribute your weight and offer equal support to your body.
Thus, you won't be tossing and turning since each and position will feel equally comfortable. You won't have any other issues such as clotting of blood either.
When it comes to supporting the weight and shape of your body, Wakefit mattresses fare much better than Sleepwell mattresses.
Who Provides Better Customer Support Between Wakefit and Sleepwell?
When comparing Wakefit vs Sleepwell, it's clear that Wakefit delivers a better customer experience than Sleepwell.
It only takes a quick browse of online forums such as Reddit and Quora to learn how users are having a hard time getting in touch with the Sleepwell staff, thus damaging the customer experience.
Wakefit offers excellent customer care services for its users. The staff is responsive and quick to clear the queries of its customers.
Who Has A Better Return Policy: Wakefit or Sleepwell?
If you order a mattress from the Sleepwell website, you have one week to return it. However this offer doesn't extend in the case of offline purchases. Sleepwell also offers a trial policy of 100 nights.
Just like Sleepwell, Wakefit provides its users with a 100 nights trial policy.
In the case the users don't like the mattress, they can initiate a return and refund process. It takes about 5 days from the initiation of the process till the time you get your money back.
Sleepwell vs Wakefit: Price Analysis
By comparing the best mattresses and their features with the price tags they're available at, anyone can see that Wakefit is clearly the winner.
For instance, the Wakefit Dual Comfort Mattress costs about INR 4600- INR 4800. Also, the Memory Foam Mattress by Wakefit comes at a price tag of INR 5740-5900.
In contrast, the Sleepwell Cocoon Feel Mattress that offers similar features costs around INR 6299- INR 6400.
Types of Sleepwell Mattresses and Their Uses
Spring Range: It's the perfect choice for those who want the bounce, durability and comfort in a single mattress.
My Mattress Range: Through this range, Sleepwell offers its customers a chance to customize their own mattresses.
Duet Air: For those who seek high durability above other factors.
Nexa: If you're ready to pay a hefty price for maximum comfort, definitely go for this range.
Spine Bond: Specially crafted for people suffering with back pain. These mattresses relieve your spine at night after a long day of work.
Types of Wakefit Mattresses and Their Uses
It's available in double as well as single beds. It's efficient in isolating all types of motion by absorbing it. It makes for an ideal option if your sleeping partner tosses and turns a lot at night.
Opt for Latex mattresses if you're looking for a mattress that's highly durable, breathable, responsive and comfortable
Wakefit's widely famous memory foam mattress assists in blood circulation. The memory foam assumes your body shape and assures a comfortable sleep. It also boasts antibacterial features. So it makes for a natural choice for those with any sort of allergies.
Frequently Asked Questions
Which mattress do you recommend for people who are side sleepers?

Without a doubt, Wakefit Memory Foam Mattress are the best for side sleepers.

Which mattress is good in Sleepwell?

The Sleepwell Cocoon Feel Mattress makes for an efficient choice.
Our Verdict
From the perspective of a consumer, price plays a huge factor. Thus, if you want a really efficient mattress with all the top features without shelling out too much money, go for Wakefit mattresses.
We would recommend you to buy mattresses from Wakefit, if you are suffering from back problems.
At the same time, that's not to say Sleepwell mattresses are any less competitive. Sleepwell remains a major player in the industry, boasting thousands of satisfied customers.
That concludes our article on the Sleepwell vs Wakefit mattress analysis. Now we would love to hear your thoughts on it. Let us know by commenting down below.