The best aspect of living in modern times has to be the abundance of variety, no matter what you are looking for. The same holds very true when it comes to tables for studying purposes. Especially in this technology-driven era, one can find for themselves a multipurpose study table that caters to all their needs. On top of that, you can find study tables extremely cost-effective just because they are so readily available. We've put together a list of the best study tables under 1000 in India with all that in mind.
A Comparison of Best Study Tables Under 1000
| | OFIXO | DECORVAIZ | MemeHo |
| --- | --- | --- | --- |
| Weight (KG) | 2.25 | 2.25 | 2.94 |
| Our Rating (out of 5) | ⭐⭐⭐ | ⭐⭐⭐⭐ | ⭐⭐⭐⭐ |
| Model No. | LTT-0002 | LT-00021 | LT01 |
| Dimensions | 60.96 x 27.94 x 25.4 cm | 60 x 38 x 4 cm | 65.5 x 44.96 x 7.37 cm |
| Colors Available | 1 | 1 | 5 |
| Made In | India | India | China |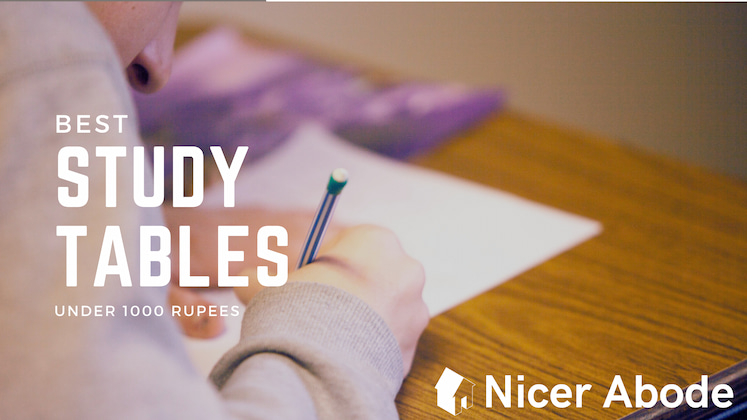 As we mentioned, the variety isn't a problem for buyers at all. But rather, it's a blessing in disguise since you can find a cheap study table for yourself. The reason is simple; a lot of competition among the producers to dominate the market.
At the same time, often, you might get confused as to which study table to choose. Thus, without further ado, let's dive into NicerAbode's detailed listing of the best study table under 1000.
Top 3 Best Cheap Study Table in India Are:
OFIXO Multi-Purpose Portable and Foldable Laptop Table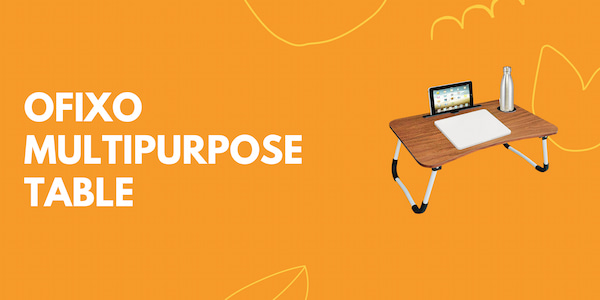 The first pick on our list belongs to a lapdesk manufactured by Ofixo. This wooden table is for you if you like to keep your study table on bed. Its portability fulfills all your needs of a table without compromising on your comfort.
Furthermore, OFIXO's cheap study table is perfect for those who recently have back pain and can't get up. It provides ample space for you to keep your phone, tablet, and laptop all at once.
In that regard, it's nothing short of a multipurpose study table. The wide platform allows you to do activities such as arts & crafts or reading in the comfort of your bed.
Features of OFIXO Multi-Purpose Portable and Foldable Laptop Table
When you order the product, you don't have to worry about how to assemble it. The team at OFIXO does all the hard work for you and gives you the final, assembled product.
In case you have any issues, their customer service is top-notch and readily available.
Multi-purpose Study Table
As mentioned earlier, you can employ the OFIXO portable study table as you see fit. You may use the study table on a bed, sofa, or as a lapdesk. In that regard, it perfectly fulfills the role of a mini-study table.
More so, if you're having a lazy morning, you can use OFIXO's product as a breakfast table. Besides that, it provides enough space for you to house a phone and a laptop.
Its applications vary from being a portable laptop desk to acting as a board to play games on. For art students, it provides a stable platform to draw their sketches and paintings on. Plus, you may also use it for writing, reading, or even as a table for serving.
If you're still giving people the same old gifts in this day and age, it's probably time to deck up. If you know anyone who likes to read, it'll be a fitting gift item for them. They can use it as an efficient reading table.
You can even get it for your kids if you have any. You may know how hard it is to wake up kids for classes in the morning. Your kids can keep their laptops on it to attend online classes.
In addition, it makes for the best multipurpose table under the 1000 INR category, especially for a moving day. That's because this Ofixo table belongs to a study table foldable category, you can easily pick it up and place it anywhere. Storing this table when it is not in use is therefore very easy.
You can efficiently place your food and other items that you wish to keep clean.
OFIXO's multipurpose table makes use of the best wood that's engineered in a way to provide high durability. Not only that, the legs of the study table are made of metal lubes that are powder-coated.
DECORVAIZ Multipurpose Foldable and Portable Laptop Table with Dock Stand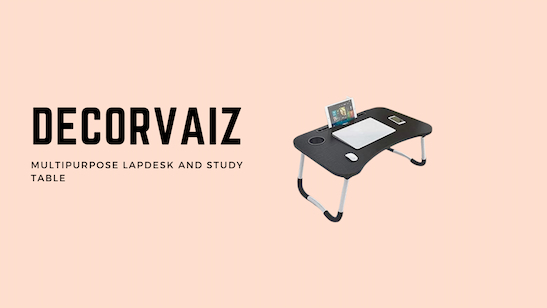 Next up on our list of the best study table under 1000 is the multipurpose by DECORVAIZ. The item's more popularly known as a lap desk due to the ease with which you can use it.
Features of DECORVAIZ Multipurpose Foldable and Portable Laptop Table with Dock Stand
Best Multipurpose Table for Soft Surfaces
The sturdy legs offer the product good stability allowing undisturbed usage to the users. It makes for an efficient and portable sitting table that you can use on bed. You may also choose to use it while sitting on a couch or a sofa.
Additionally, you can use the table for purposes such as eating, reading, or even playing games on your laptop. Besides that, employing the table for work purposes is no issue at all.
Due to the firm and stable surface it offers, you can employ the study table on bed.
The cheap study table by DECORVAIZ also belongs to the study table foldable group. That allows users to employ it just about anywhere. Also, being a foldable study table, it's easier to carry it around from one place to another.
Therefore, if you don't have much space in your room, fold it up. You can keep it under your bed (if there's space) or behind your doors when you're not using it.
Furthermore, when the need arises, you can take it out and fold out the legs. That's it! You can go ahead and use it. So it's not only space-efficient but doesn't require reassembling every time you use it.
Due to these features, DECORVAIZ's considered the best foldable study table under 1000 rupees by those who love picnic or camping. For them, it's the most convenient and natural choice.
An interesting feature about the study desk is that it offers resistance to scratches. Also, that adds to its already existing durable properties. That's because MDF is the material used to make DECORVAIZ's sitting table.
For those of you who are unfamiliar with the term, it stands for Medium-Density Fiberboard. The material uses a blend of wax, resin, and wood fiber to provide maximum durability.
More so, the brand uses only those materials that fit the needs of the Indian audience.
Besides, the study table offers an ergonomic design through its metal legs. This design offers it more stability even when used on soft surfaces.
MemeHo Smart Standard All-Purpose Foldable and Portable Laptop Table
The final table on our list of the best study table under 1000 is the MemeHo study table foldable.
Features of MemeHo Smart Standard All-Purpose Foldable and Portable Laptop Table
When you order the product from Amazon, you won't have to assemble the study table. You only need to take it out of the packaging and start using it. Therefore, you won't have to get confused with what goes where with the MemeHo portable study tables.
The very first aspect that stands out about the product by MemeHo is the variety of colors. You have a wide selection of colors to choose from, in case you're tired of that wooden aesthetics.
You may select colors ranging from green, blue, pink, or even black for your study table.
When it comes to the applications of the study table, it's not restrained by a particular age group. It matters not if you're 80 or just starting school; it'll prove to be imminently useful to you.
Since it's a portable desk, you can use it outdoors on the lawn or indoors on the couch where it's comfy.
If you're someone who enjoys some quality time every morning with your family, use the table during breakfast. Thus, in that way, it fulfills your search if you wish to use your study table on bed.
You may employ it to paint, sketch, as a reading table, or surf through social media on your laptop.
All in all, MemeHo offers among the best multipurpose table for their varied usages.
Material of the Study Table
Similar to the other products, MemeHo uses top-quality wood that's engineered to cater to your needs. Besides that, the legs comprise metal tubes that are powder-coated to prevent corrosion.
On top of that, the legs offer efficient resistance to compression, thus making it even sturdier.
Since the study table by MemeHo has foldable legs, you don't have to worry about it occupying space.
Once you're done using it, you need to fold the legs by pushing them inwards. After that, store it behind your door or under the bed, if you have space there.
Further, you can take it out and fold out the legs when you need to use it again. Now, you can place it anywhere you wish to.
Frequently Asked Questions
Which Table is Best for Study?

The best table for studying is the product by MemeHo. Not only that, it's the best study table under 1000 on Amazon. Now, let's discuss how and why we came to that conclusion. There are many things to consider here.
The first aspect we need to look into is stability. Say you wish to study on a bed; not just any cheap study table will do. That holds even if you used the portable study desk on a couch or sofa or out on the lawns. You require a desk that would offer you a stable platform to put your books or anything else. The reason is simple; the surfaces of a bed, couch, or sofa are soft. Thus, an efficient study table requires a feature to tackle that issue. That's where the study desk by MemeHo comes into play. It has features that offer resistance against any compression. With such a product, you can use the study table on bed without any worries.

What is the Perfect Size of Study Table?

Ideally, it should be around 52cm x 33cm x 20 cm when it comes to foldable and portable study tables. With that said, if you go for a study table with inaccurate dimensions, it may cause serious damage to your neck. Therefore, purchase a study table in the range of 26″-30″ in terms of height. At the same time, you'd have to compromise on that if you purchase foldable study tables.

Where Can I Buy Study Tables under 1000 Rupees?

As mentioned earlier, these days you can find whatever you're searching for quite easily. You can choose to buy it either in stores near your house or order it online. More so, if you choose to go to the stores nearby, they might not offer you such deals on the same products. Thus, instead of the discounted Amazon price we listed here, you'll have to pay the full price. Thus, we would suggest that you make good use of the Amazon sales and order it online.

Can I Fold Portable Study Tables?

Yes, it matters not which study table you decide to buy; they all have foldable legs. You can fold them up by pushing the legs inside and keep them away.

Which Study Table Color Should I Go for?

When it comes to study tables, choosing the right color is vital. It's something that you're going to look at while you work or study. Therefore, select a color that's soothing and keeps you focused. Some of these colors are brown, cream, yellow, white, and so on.
If it's a gift for your kid, you may even go for a color like pink. But that's only possible if you order the study table by MemeHo
Final Thoughts
We all require a study table or desk at one point in our lives. That's where you spend most of your day if you're an office worker or a student. If not, you might require one to put your laptop and plates on while binge-watching a show.
Regardless of that, one cannot deny the convenience and ease these foldable study tables offer. And as we mentioned earlier, selecting one can be hard because of its wide variety of options.
So with that in mind, we hope that our article on the best study table under 1000 rupees budget helped you immensely. We listed down three of the most reputed and famed products on Amazon for you.
Based on that, we even did all the analysis to conclude the best study table foldable.
Therefore, if you agree with our analysis, we assure you that the multi purpose table for study by MemeHo is the best. That holds, especially for the same type of products that are under the 1000 INR category.
Apart from that, the other two study tables also offer similar features and are much more cost-effective. But at the end of the day, it depends on what you're most comfortable with.