Bath and Body Works produces a variety of scented products that can elevate the atmosphere in your home. These products include body care essentials, hand soaps, sanitizers, and home fragrance necessities.
Each category further elaborates into sub-sections so that you can pick particular products based on aroma, requirements, or preferences.
Wallflowers are one of the most popular products in the home fragrance category after scented candles. These wallflowers come in different fragrances, and many people use them in their homes.
They are a better alternative to B&BW scented candles, especially if you have pets or active kids in your home.
However, like all other products, wallflowers also have their flaws, and one of the most common scenarios is Bath and Body Works Wallflower not smelling good.
If you are here wondering:
This article will walk you through some of the best reasons for B&BW wallflowers not working and how to clean and maintain them.
Why Are My Wallflowers Not Working?
Why Are My Wallflowers Getting Weak?
How to Make Wallflowers Smell Stronger?
Why Are My Bath and Body Works Wallflower Not Smelling Good?
… then you are at the right place.
So without further ado, let's get started.
Bath and Body Works Wallflowers Not Smelling Good? Top 5 Reasons
A B&BW wallflower should last for two years under normal usage. However, sometimes you may notice that your wallflowers are not working. Either the smell becomes too weak, or it starts leaking.
Here are the top reasons for Bath and Body Works Wallflowers not smelling good:
Leakage issues: One of the common reasons B&BW wallflowers stop working is leakage issues. Leakage in your wallflower can shorten its lifespan, which means it can stop emitting aroma at any time. It would be best to check your wallflowers thoroughly before using them.
Clogged Diffuser: It is possible that your plug-in has accumulated dirt and waxy build-up due to extended use, which would make the wallflower smell weak. I have included some instructions below for cleaning your wallflower plug-in.
Technical issues: Faulty wiring in your wallflower or wall outlet can also make your wallflower stop working. Ensure that you check your outlet and wallflower for any technical issues before usage.
Over usage: Leaving your B&BW wallflower plugged in all the time can reduce its lifespan. Your wallflower will emit more fragrance and stop working sooner than the average usage time. Turning off the outlet or unplugging your wallflower would be best to reduce unnecessary usage.
Faulty wallflower: Check your B&BW wallflowers for any technical faults after purchasing. It ensures that you don't end up buying a faulty B&BW wallflower that will cause problems during usage.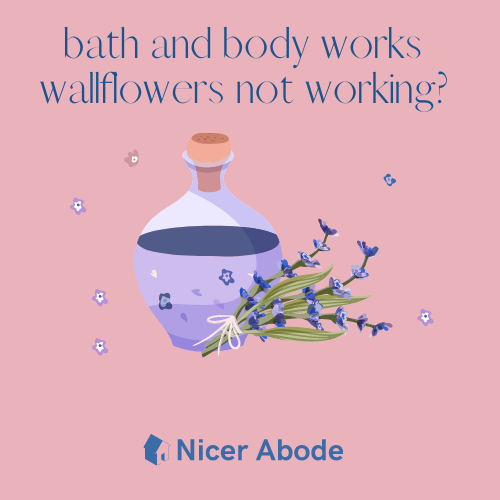 How to Clean Bath and Body Works Wallflowers?
Since a Bath & Body Works wallflower is expensive, refilling it can be cheaper than purchasing a new one.
A new wallflower refill provides 30-days of additional usage and is more affordable. Additionally, you can also try other fragrances without changing your plug-in wallflower.
However, you will have to clean and maintain your wallflower diffuser before using a new fragrance bulb to get the best results. So how do you unclog Bath and Body Works wallflowers?
Here's some common household items you'll need to clean a wallflower – some cotton swabs, and rubbing alcohol.
Here are the steps to clean a B&BW Wallflower diffuser:
Take some cotton swabs (preferably medical ones) and rubbing alcohol
Put some rubbing alcohol on the cotton swabs and start clean from the underside of the diffuser
Push the waxy orange build-up through the top holes
Wipe the wax from the top
Some wallflower plug-ins may have a different design, and you might have to employ a different technique to clean them. Once your wallflower plug-in is clean, you can insert a new bulb and enjoy other fragrances.
Can Bath and Body Works Wallflowers Be Adjusted?
No, with most newer Wallflower plug-ins, it is not possible to adjust the strength of the fragrance.
Bath and Body Works Wallflowers come with a secure design. The product prevents accidental removal or opening of the refills by incorporating an unusual counter-clockwise motion.
For instance, you will have to remove the refill cap by twisting it clockwise. After removing it, you can insert the new refill in your wallflower plug-in with a counter-clockwise motion.
This mechanism may seem awkward at first, but you will get used to it with time and experience.
How To Make Wallflowers Smell Stronger?
B&BW Wallflowers come with different fragrances and can help you experience feelings of relaxation and tranquillity. However, many users explore or push the boundaries to strengthen the scent.
While a fresh, intense aroma may elevate your personal experience, it can disturb other individuals or pets in your house. Smelling an intense fragrance for longer duration can cause nausea, headaches, dizziness, or fragrance fatigue.
The best way to experience a B&BW wallflower is as per the manufacturer's instructions.
However, if you do want to increase the strength of the scent, Bath and Body Works Wallflowers Duo can also be an ideal solution. These wallflowers contain two fragrances and come with an automatic mechanism that switches between the two scents every 48 hours.
Additionally, the wallflowers duo plug-in also features an indicator light, allowing you to know which fragrance you are using at the moment.
My Wallflower Refills Are Not Working!
Wallflower refills may not work due to many reasons. It may be because of a technical issue, manufacturing fault, or other problems.
Here are some of the ways you can prevent wallflower refills not working problem:
Check your wallflower refills – After you purchase a new refill, check it in your wallflower plug to ensure that it is working fine.
Clean the diffuser – As we mentioned earlier, diffusers collect a wax-like substance after your old refill runs out. It would be best to clean the diffuser before inserting a new refill in your wallflower plug-in.
Manufacturing fault – Sometimes, wallflower refills stop working because of a manufacturing fault. You can contact B&BW support to claim for an exchange.
Problem with your wallflower plug-in – Technical fault in your wallflower plug-in can also cause your refills to stop working. Check your wall outlet or plug-in before inserting a new refill.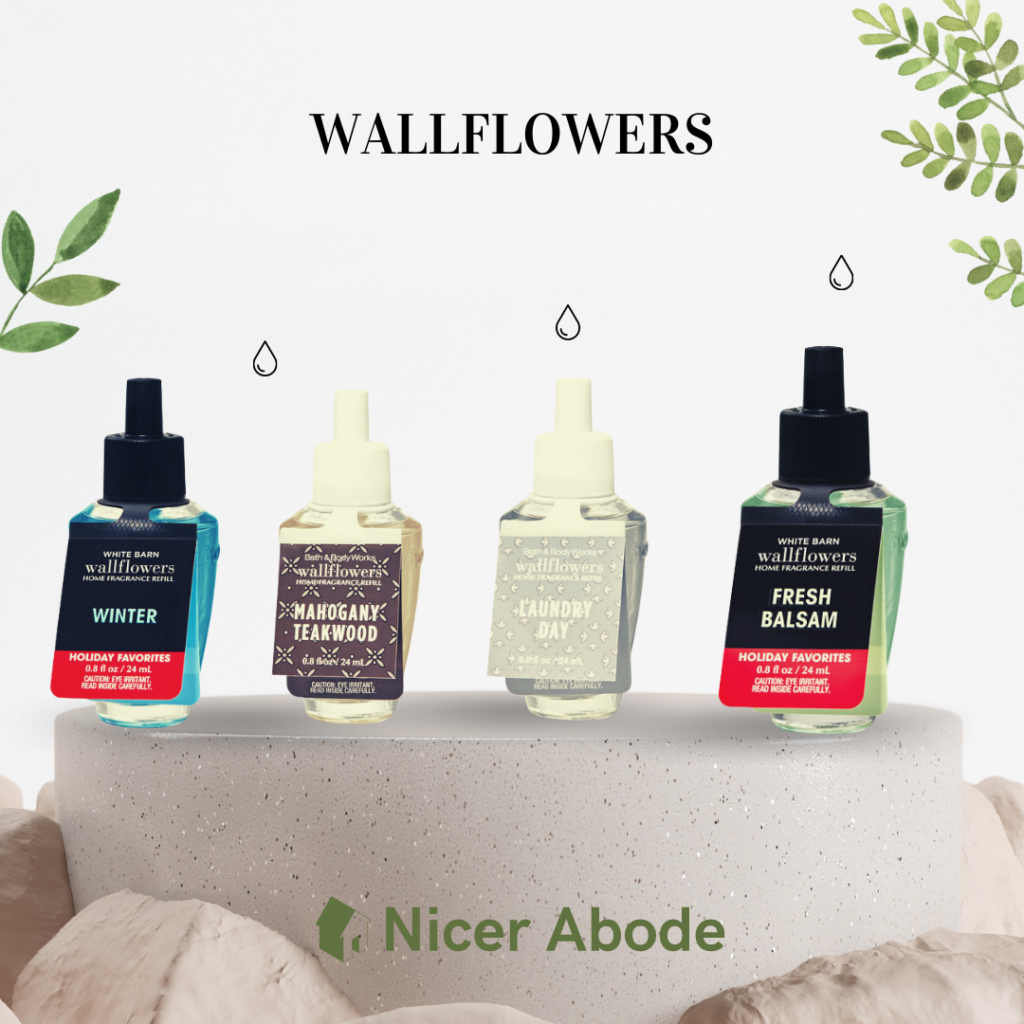 Why is my Bath and Body Works wallflower leaking?
Here are some common reasons for B&BW wallflower leaking:
Loosely connected refill
Defect in the wallflower plug-in diffuser
Faulty refill bulb
Dirty diffuser
Damaged refill
💐 Can You Return Bath and Body Works Wallflowers After They Stop Working?
B&BW has an excellent support team and follows a complete customer satisfaction policy.
If your B&BW wallflowers stop working, you can return them and claim a full refund. You can get more information by visiting these links – Online Purchase Return FAQ and Store Purchase Return FAQ.
💐 What are Bath and Body Works Wallflowers?
Wallflowers are air fresheners that carry fragrances based on their other scented products, such as candles, lotions, or body care essentials.
Since they have a plug-in mechanism, you can use it anywhere in your home. The white plastic flowers distribute the aroma into your surroundings, which can elevate your home's environment.
Berry Waffle Cone, Crisp Morning Air, and Lavender Vanilla are some of the most popular scents among other B&BW wallflower fragrances.
💐 How to use a B&BW wallflower?
B&BW wallflowers come with an easy-to-use mechanism. You can plug into any wall outlet in your home and enjoy the aroma. A B&BW wallflower plug can last for two years, depending on your usage.
B&BW also produces refills to ensure quick and affordable replacement. You can get up to 30 days of use from these refills.
💐 Are Bath and Body Works Wallflowers Worth It?
B&BW wallflowers are a safer option than scented candles. You can use a wallflower plug-in with any wall outlets without bothering your pets or active kids.
💐 Why is my Bath and Body Works Wallflower light not working?
Wallflowers feature an indicator light that indicates active usage. However, if you have a faulty connection on the plug-in, the light may not work.
Additionally, power disruptions can also damage the indicator light and stop working.
ALSO READ: How Long Do Wallflowers Last? Here's Our Test Results
Wrapping Up
Bath and Body Works Wallflowers are an excellent alternative for scented candles as they are safer and affordable in the long run. However, you need to take good care of these products to ensure long-lasting results, or you'll end up on this page searching for "Bath and Body Works Wallflowers Not Smelling" 🙂
It would be best to maintain and clean them before inserting a new refill to reap their benefits and experience B&BW's incredible fragrances.
ALSO READ: Does Bath and Body Works Take Expired Coupons? Yes, Here's What You Need To Know